When it comes to your wedding day, every detail must be perfect. As the bride, you want to look and feel stunning from head to toe—that includes nails! To help make sure you are ready for your big day and fully embracing this special moment, why not think about creating something unique for your wedding manicure? With a bit of creativity, some well-selected adornments, and careful craftsmanship on an expertly applied base color, you can have a one-of-a-kind handcrafted design that makes a statement by intensifying the beauty of both the occasion and your overall look. Read on for fresh inspiration on creating beautiful handmade wedding manicures with embellishments that you'll treasure forever!
The beauty of a wedding manicure: how to choose the right colors and embellishments
When planning the perfect wedding manicure, there are a few important factors to consider. Firstly, think about the overall look you want for your special day. Do you prefer classic and timeless colors or something more modern and unique? If you're leaning towards a classic look, pale pinks, and nudes can be beautiful choices that won't clash with any bridal wear. On the other hand, a slightly bolder option could add a bit of sparkle by incorporating subtle metallics or glitter into the mix.
Try adding some embellishments like delicate 3D accents or rhinestones for something truly memorable. These sophisticated touches can give an ordinary mani a luxurious feel that will make your special day even more unforgettable. In addition, consider wearing a bolder color on one accent finger to make your wedding manicure pop.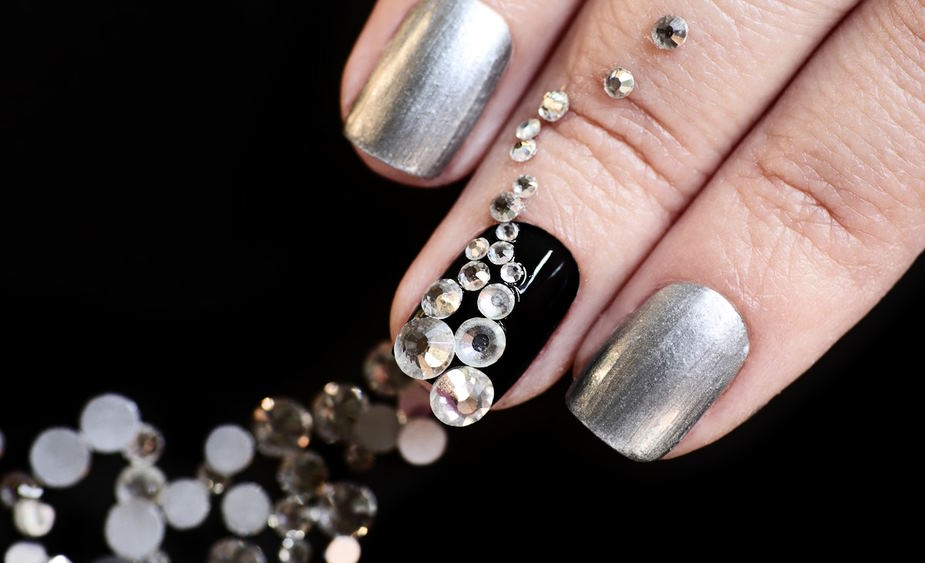 Finally, don't forget the importance of quality products and professional applications. Investing in a salon-quality manicure ensures longer-lasting results and lessens the chances of any smudges or chips on your big day. Talk to your nail technician about the right products and ensure you book enough time for them to do their job properly! With these tips, you can create an unforgettable wedding manicure that will last long after the special day.
How to style your wedding manicure with embellishments
If you want to make your wedding manicure special, consider adding some embellishments. You can choose from various items, such as rhinestones, stickers, charms, and even small beads. Start by choosing an overall design for your manicure that works with the theme of your special day. Once you have chosen the design, it's time to start embellishing!
Rhinestones are a popular choice when it comes to wedding manicures. They come in different sizes and colors, so you can find just the right shade to match your look. Then, use tweezers or an adhesive stick to place them on each nail exactly where you want them. If done correctly, they will stay put all night long – no need to worry about falling off.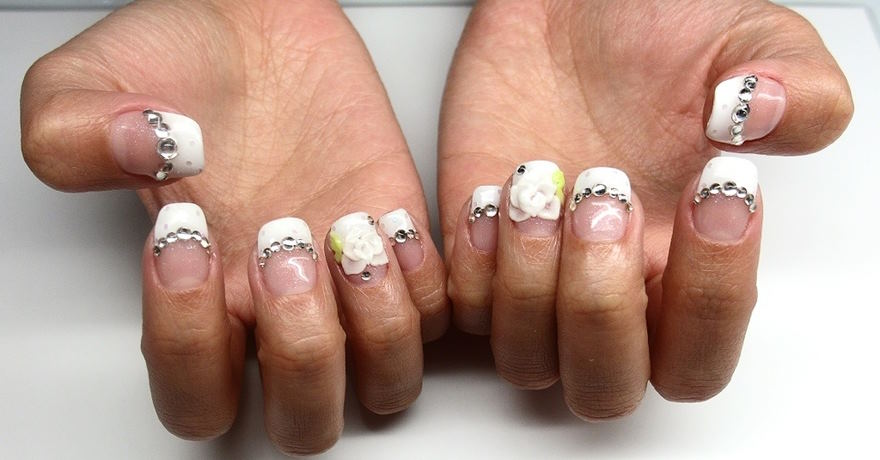 Stickers are another easy way to add a touch of glamour to your wedding manicure. You can find stickers in almost any shape or design. Use tweezers or an adhesive stick to place the sticker on each nail and press lightly until it adheres. Some brands may need to be sealed with a clear topcoat, so they don't peel off easily.
Charms are also popular for weddings and come in everything from hearts, stars, flowers, and more! They look beautiful when placed on each nail for a truly customized look. Again, apply tweezers or an adhesive stick and press lightly until they adhere securely.
Small beads can also add a little sparkle and shine to your wedding manicure. First, select colors that will match the overall theme of your look. Then, use tweezers or an adhesive stick to place the beads on each nail and press lightly until they adhere securely.
Adding embellishments to a wedding manicure is easy, inexpensive, and can make your nails stand out! You can create a unique look with a few simple steps. So have fun and enjoy the process – after all, it's your special day!