Your wedding day should be a momentous occasion that you will cherish for years to come, and what better way to express your inner beauty than with the perfect bridal makeup look? Dewy makeup is becoming more popular as it gives your skin a natural healthy glow. However, when it comes to choosing the right products and techniques, there are countless ways to pull off a stunning dewy bridal makeup look on your big day. From highlighting certain features such as eyes or lips all the way down to completing the entire look with some shimmering blush or lipgloss, read on for our tried-and-tested tips on creating beautiful dewy bridal makeup looks that will last throughout the night.
Tips for creating a dewy bridal makeup look
Start with a good skincare routine: Get a regular facial, use an exfoliator scrub to remove dead skin cells, and follow up with a moisturizer that contains hyaluronic acid for a glowing complexion.
Prime your skin: Applying a primer before foundation will help create an even canvas for makeup application. Look for primers specifically designed to give you that dewy look by reducing the appearance of pores, fine lines, and wrinkles.
Use shimmery eyeshadows: Soft shades of pink or gold work well to add sparkle and depth to your eye makeup while keeping it lightweight and natural. Avoid using harsh dark colors, as this can make your look seem too heavy for a bridal makeup look.
Use cream blush: Cream blushes help add more of a dewy finish to the skin and last longer than powder blushes. Try rose gold or peach shades to bring out the rosy glow in your cheeks.
Use highlighter: Highlighting the high points of your face, such as your cheekbones, brow bones, and bridge of the nose, will give you that extra touch of dewiness and ensure you don't miss any spots.
Finish with a setting spray: Setting sprays help keep makeup intact all day long while providing some extra moisture and hydration to the skin at the same time. Keep your makeup looking fresh and dewy for hours with a good setting spray.
Don't forget your lips: Adding a glossy lip color or lip gloss to finish off the look will help complete the overall look and give you some added shine. Choose light pinks, nudes, or corals for that perfect bridal glow.
By following these tips, you can achieve your perfect dewy bridal makeup look on your special day!
Dewy vs. matte: which is better for your wedding day makeup?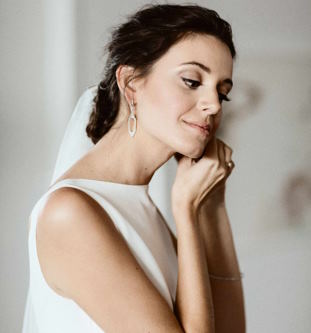 When it comes to wedding day makeup, there is no one-size-fits-all answer for which look will be best for you. It depends on your skin type, the overall look you're trying to achieve, and your personal preference. When deciding between a dewy or matte finish for your big day, there are several factors to consider.
If you have oily or combination skin, then a matte finish may be more suitable, as it helps absorb excessive shine while still allowing you to maintain a natural glow. However, if you have dry skin, a dewy finish could help add moisture and hydration back into the skin while also providing luminosity – perfect for those seeking an ethereal radiance.
In the end, your decision should be based on what you feel most comfortable and confident in. If you're still not sure which finish choosing, try experimenting with both and see which one works best for your skin type and desired look. Either way, it's important to make sure that whatever makeup look you decide on looks natural and seamless so that you can enjoy every moment of your special day!