When planning a wedding, one of the most exciting and important elements to consider for your dress is the type of sleeve style that you want. While traditionally strapless gowns have been in vogue over recent years, there are so many more unique designs out there now offering brides lots of options when it comes to finding 'The One'. From delicate cap sleeves to opulent bell cuffs, modern bridalwear is moving away from simple silhouettes to statement sleeves that reflect each bride's individual sense of style. With this in mind, we come bearing all the details on some of the most popular sleeve styles that are trending right now!
Timeless wedding dress sleeve styles that will never go out of fashion
Cap Sleeve: A cap sleeve is a short sleeve style that covers the shoulder and upper arm. It's a classic look that pairs well with any neckline and looks great on nearly any body type.
Bell Sleeve: This flirty and feminine style features sleeves that flare out at the ends, resembling bell shapes. This is an especially popular choice for bohemian or "boho" wedding dresses.
Off the Shoulder: An off-the-shoulder dress features a sleeve length that barely grazes the tops of your shoulders, providing coverage without sacrificing elegance.
Illusion Sleeves: Illusion sleeves feature sheer fabric over the shoulders and arms while still providing coverage in the bodice or upper arm area. This look is perfect for brides who want to show off their arms without baring too much skin.
Long Sleeves: Long sleeves are a timeless choice that's especially popular during the cooler months. They come in various fabrics, from sheer lace to thick satin, and can be paired with any neckline.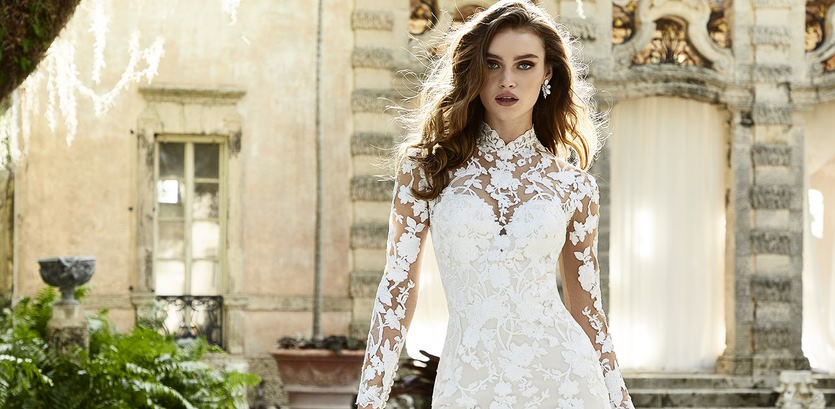 Three-Quarter Length: These sleeves hit at the mid-forearm and provide coverage while still looking elegant. They're great for dresses that feature intricate beadwork or other detailing on the arms.
Scalloped Edge: For an even more delicate look, scalloped edges around the edge of the sleeve are a great choice. It's an understated way to add detail and can be paired with any neckline or dress style.
Puffed: Puffed sleeves are perfect for creating a vintage look. The fabric is gathered at the shoulder and cuffs, creating fullness that adds drama and elegance to your wedding look.
No matter which type of sleeve you choose, selecting one that complements the rest of your dress and makes you feel beautiful on your special day is important. With these timeless styles, you can rest assured knowing that your wedding dress will remain fashionable for generations to come!
How to pick the perfect wedding dress sleeve style for your big day
The sleeve style of your wedding dress is a very important decision. There are so many styles to choose from, and deciding which one will look best on you can be hard. Here are some tips for picking the perfect wedding dress sleeve style:
Consider Your Venue: The wedding venue should play a big role in what type of sleeve you ultimately select. A more formal setting calls for long-sleeved gowns, while beach or outdoor weddings may call for something with shorter sleeves, such as cap sleeves or even tank tops.
Think About Comfort: You want to look good, but you also want to feel good all night long! So if you're going to be dancing, running around, or doing other activities during the night, make sure to pick a sleeve style that won't be too restricting.
Consider Your Figure: Different sleeve styles are going to look better on different body types. For example, if you have wide shoulders, a sleeveless dress might draw attention to them and make them appear even wider. On the other hand, if you have narrow shoulders, an off-the-shoulder or one-shoulder style can create balance by emphasizing your beautiful neck and décolletage area.
Accessorize: If you're still undecided about what type of sleeve style is best for you, consider accessorizing with a shawl or wrap. This will give you the flexibility to add some coverage if you need it, and you can always remove it later in the evening when you're ready to show off your arms.
No matter what type of sleeve style you choose for your wedding dress, make sure it's something that makes you feel beautiful and confident on your big day! With a little thought and consideration, you can find the perfect style that will ensure all eyes are on your gorgeous self as you walk down the aisle.