Tired of the battle with tangles? Looking for an easy way to detangle hair without harsh products full of chemicals that can damage your delicate strands? Natural, homemade DIY detanglers could be the perfect solution! Not only are these recipes free from any synthetic or artificial ingredients, but they are also gentle on your scalp and roots – meaning fewer worries about damaging or drying out your hair. In this post, we'll share some simple yet effective DIY natural hair detanglers you can create in the comfort of your home. Then, we'll provide step-by-step instructions, so you get optimal results every time you work a little natural magic on those knots and tangles. Keep reading to learn how to make the best homemade formulas for healthy, smoother manes!
Awesome DIY natural hair detangler recipes
Making your own natural hair detangler is a great way to keep your curls hydrated and easy to manage. These recipes are homemade and use ingredients you likely have on hand in your kitchen!
The Apple Cider Vinegar Detangler: This detangling recipe uses raw, unfiltered apple cider vinegar to penetrate the hair and help break down tough tangles. Combine 1/4 cup of ACV with 2 cups of warm water, then apply it to wet or damp hair evenly from roots to tips. Leave in for 10-15 minutes before rinsing out thoroughly with cool water.
Avocado and Coconut Milk Conditioner: This detangling recipe combines avocado and coconut milk. Mash one ripe avocado, then combine with 2 tablespoons of coconut milk in a bowl until it forms a thick paste. Apply the mixture to wet or damp hair from roots to tips and leave on for 15-20 minutes before rinsing off thoroughly with cool water.
Banana Hair Smoothie: This detangler recipe uses banana, honey, and olive oil for an ultra moisturizing mix that will help soften the most stubborn of tangles. Combine 1/2 banana, 1 tablespoon of honey, and 1 tablespoon of olive oil in a blender until smooth. Apply the mixture evenly throughout your hair from roots to tips and leave on for 20-30 minutes before rinsing out with cool water.
Coconut Milk and Honey: This detangling recipe is a classic combination of coconut milk and honey, which helps to nourish your hair while gently loosening knots. Combine 1 cup of coconut milk with 2 tablespoons of honey in a bowl until you form a thin paste-like consistency. Apply the mixture evenly throughout your hair from roots to tips before leaving on for 10-15 minutes, then rinse off thoroughly with cool water.
These homemade natural hair detangler recipes will help keep your curls healthy and hydrated while making them easier to manage. Try one or all of these recipes to see which one works best for you!
Essential oils for the perfect natural hair detangler
Essential oils can do wonders for your natural hair. From restoring moisture to adding shine, essential oils are a great way to nourish and protect your locks. One of the best uses for essential oils is as a natural detangler. Not only will it make combing through knots easier, but it will also help reduce damage and breakage from tugging at tangled strands.
Lavender oil is a great choice for naturally softening hair and making it easier to manage. It helps reduce inflammation in the scalp and creates an environment that supports healthy hair growth. You can mix lavender oil with jojoba oil or another carrier oil, then apply directly onto damp hair after washing. Massage into your scalp and let sit for several minutes before combing through your hair.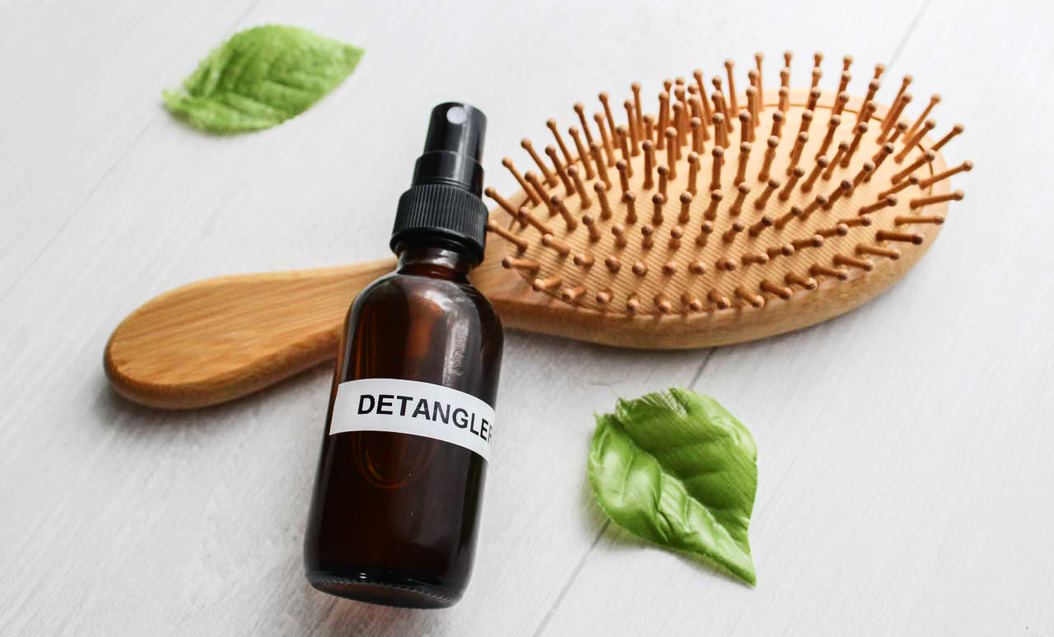 Another great essential oil for detangling is geranium oil. This oil helps balance the scalp's moisture levels and adds shine to dull locks. It also nourishes the roots of your hair, promoting stronger strands and less breakage from tangling. Geranium oil can be used similarly to lavender – mix it with a carrier oil and massage it into damp hair after washing, then let sit for 10-15 minutes before beginning to comb it out.
If you're looking for an even more powerful detangler, try ylang-ylang oil. Not only does this essential oil help soften your hair and make it easier to untangle knots, but it also helps promote growth and strength. Ylang-ylang oil is a great choice for those with coarse and curly hair that gets easily tangled, as it can help reduce frizziness. To use this oil, mix a few drops of ylang-ylang with jojoba or coconut oil, then massage into the scalp and work through damp strands. Let sit for 10 minutes before combing out your hair.
Using essential oils as part of your natural hair care routine is an excellent way to keep your locks healthy and manageable. Whether it's lavender, geranium or ylang-ylang – adding one of these oils to your detangling ritual will make any knots easier to manage while improving the appearance and strength of your hair. Give it a try and see how much smoother your locks feel after just one use!