Are you planning a wedding rehearsal dinner? If so, you're in the right place! This guide will provide everything you need to know about throwing a successful rehearsal dinner. From guidance on choosing the perfect setting to picking out delectable dishes and expert tips for creating memorable moments, we have all your needs covered. Plus, learn some unique and creative ideas for making your night truly special–from personalized cocktail napkins and custom seating cards. These floral arrangements double as centerpieces to signature drinks that express individuality. We'll even provide advice on etiquette and traditional 'must-dos' from speeches to food-serving rules that can help make sure everyone has a great time! So sit back, relax, take notes (if needed!), and let us be your go-to source for a fun yet stress-free experience when it comes to organizing an unforgettable wedding rehearsal dinner.
Best tips for planning your wedding rehearsal dinner
Decide on a budget: Before you start planning, decide on a budget that works for your wedding rehearsal dinner. This will help you narrow down which restaurants or venues are within reach and determine the size of your guest list.
Choose a venue: Once you have determined the size of your guest list and have set a budget, begin looking for venues that match the tone and style of your event. Consider both indoor and outdoor spaces depending on the season and weather.
Select menu items: Work with the restaurant or caterer to come up with an appropriate menu for your guests depending on dietary restrictions, allergies, and preferences. Make sure to get everyone's opinion before finalizing anything.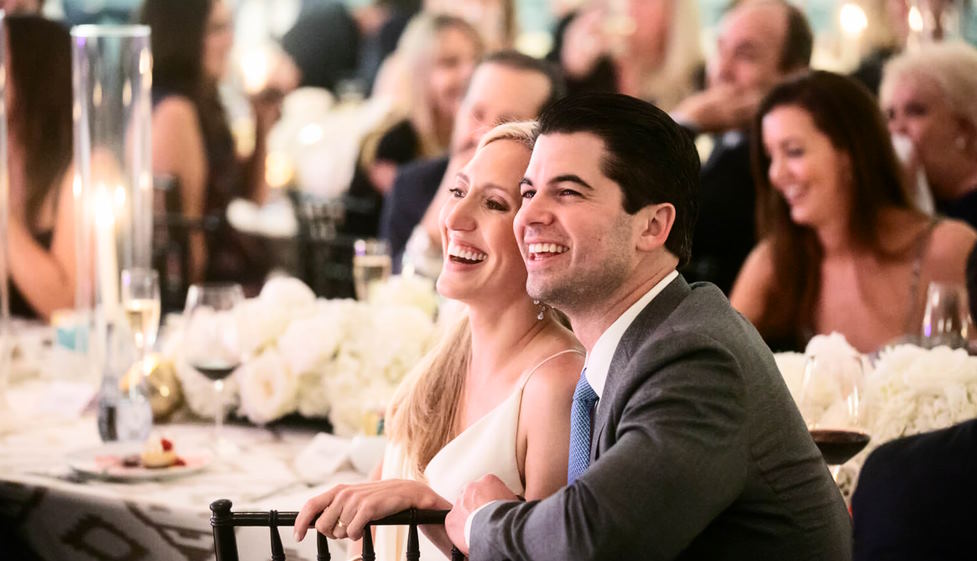 Develop a timeline for the event will help you stay organized and ensure everything runs according to plan. For example, consider when guests should arrive, what activities you'll be doing during dinner, and when the rehearsal dinner should end.
Set up decorations: Adding decorations to your venue will give it an extra special touch and make it more memorable for your guests. You can choose items that match the theme of your wedding or add some festive touches such as candles, flowers or balloons.
Consider entertainment options: To make the evening even more enjoyable, think about adding some entertainment options such as music, comedy acts or games among friends and family.
Plan some special touches: Add a few personal touches to surprise your guests and make them feel special. This could be anything from giving each guest a personalized favor or offering champagne or wine during dinner.
Have fun: Above all else, don't forget to enjoy yourself! The wedding rehearsal dinner is a great time for both you and your guests to relax before the big day. So don't be afraid to take a break from planning and have some fun!
Rehearsal dinner etiquette tips you need to know
Send out invitations as soon as possible. Make sure to include the time and location of the dinner, as well as a dress code if applicable.
Have an open bar or have drinks available for purchase at the event. Again, it's important to provide some way for guests to get a drink if they would like one during the evening.
Ask someone close to you (such as a parent or sibling) to give a toast in honor of your upcoming nuptials. This is a great way for your family and friends to share their love and support before your big day!
Encourage conversation by having large tables with enough seating for everyone in attendance. Also, think about different games, activities, or icebreakers to spark guest conversation.
Choose food that is easy to eat and not too messy. Finger foods are good options! Have some vegetarian and gluten-free options available for those with dietary restrictions.
Provide favors for each guest such as small gifts or keepsakes that represent the happy couple or their shared interests. This will give them a reminder of your special evening together.
Plan ahead and know who is paying for what if multiple family members contribute to the dinner cost. Be sure everyone knows what they need to pay to avoid awkward situations at the event itself.
Show appreciation to all those who helped plan and organize the rehearsal dinner. This is a great way to thank those who put in extra effort to make your night special!
If you have more time before the wedding, use it wisely and consider having a gift-opening session at the rehearsal dinner. This will save you from opening presents on your wedding day when everyone is busy with other tasks.
Remember that this event is for celebrating and enjoying one another's company before your big day arrives – not for arguing or discussing sensitive topics that could cause tension among guests. Instead, keep conversations lighthearted and positive!
Enjoy every moment of your rehearsal dinner and create lasting memories with family and friends as you prepare for married life together!